February 23, 2016
stacynoren
There is nothing I love more than a chocolate chip cookie. That is why for our Valentine's celebration this year I made a cake out of these cookies. This recipe comes from Martha Stewart's new cookbook "Cakes." While it is not a traditional cake, it earns a traditional two thumbs up from our family.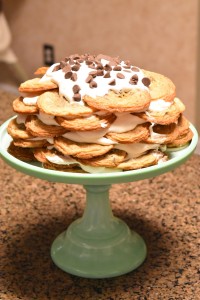 The cake is made from assembling baked chocolate chip cookies and layering them with a Mascarpone Whipped Cream filling. So once you have baked 6-8 dozen cookies it is time to go to town.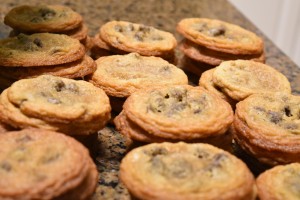 Layer about 9 cookies on a cake plate. Spread a little of the cream onto the bottom of those cookies before sitting them on the cake plate. This will help keep the base sturdy. Then add a layer of cream (about 1/2 C). Repeat this process until you are out of cookies. Then top with a little more cream and some shaved chocolate or chocolate chips. Let this rest in the freezer for a few hours to fully set and then you are able to slice it just like a cake.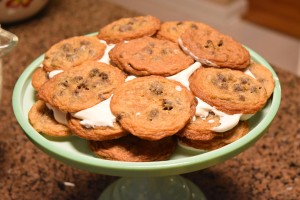 I think my favorite thing about this was it's flavor after thawing. As the cream melts back into the cookies and gets gooey and moist–YUM! There is really nothing better than a perfect bite of moist cookie covered in melting cream.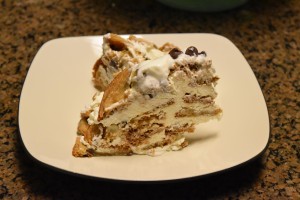 This is a must try cake for every cookie lover!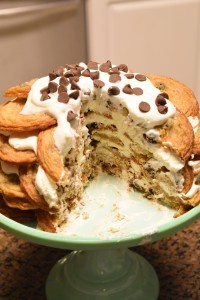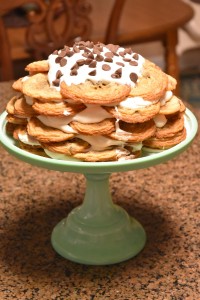 Chocolate Chip Cookie Ice Box Cake
2016-02-23 16:38:55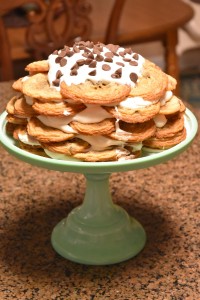 Ingredients
4 cups cold heavy cream
8 ounces mascarpone cheese
2 tablespoons sugar
8 dozen cookies from Chocolate Chip Cookie Base (2 1/4 inches, baked until crisp)
Chocolate shavings, for garnish
Instructions
Whisk 3 cups cream and the mascarpone in a chilled bowl until soft peaks form. Add sugar. Whisk until medium-stiff peaks form. Refrigerate until ready to use.
Arrange 9 cookies, touching, in a circle on a cake stand or a plate. Place 2 cookies in center. Carefully spread 1/2 - 1 cup cream mixture evenly over cookies, leaving a slight border. Repeat to form 7 more layers, ending with cookies. Refrigerate overnight or place in freezer for 3ish hours.
Whisk remaining cup cream until soft peaks form. Spread over top of cake just before serving. Garnish with chocolate shavings.
By Martha Stewart
Adapted from Martha Stewart "Cakes"
Adapted from Martha Stewart "Cakes"
Cake by the Cup Blog https://blog.cakebythecup.com/