I have always loved sunflowers. They are bright, happy, tall, and inspiring. They also remind me of driving across the country with my mom between semesters at college. Somewhere in the middle of the abyss that is Kansas there is always a sunflower to brighten your day. I kind of think of them as a symbol of love and hope.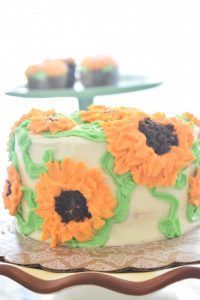 Because of that, I decided to make my grandmother a sunflower cake for her birthday. She is in her eighties and loves flowers. I wanted to make her something that she would like and that was special to me.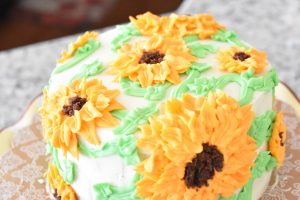 These are really fun to make and you can see two different ways to create sunflowers here. The first is on the cake. Here I used buttercream to pipe the petals before filling in the centers with cake crumbs. This gives it the feel of the grainy center. The cupcakes are piped after placing an Oreo cookies down in the center. The petals build around and on top of the cookie. This is good for getting a perfect circle in the center or if you want to make sure you have a good wide middle. Some of the ones on my cake are a little small to really be sunflowers, but I still like them.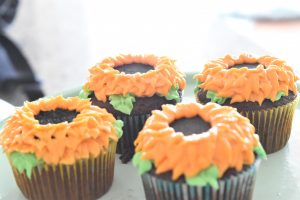 When piping, just make sure you are using a leaf tip. I used the same tip to pipe the vines, leaves, and petals. You can also change it up to get thinner vines, etc. Rustic flower cakes are something you can have fun making!