One thing that I love about my Toddler is that she wants to help me. She especially wants to help me in the kitchen. Basically anytime I walk into the kitchen she pops up shouting "Mommy, I'm helping!" or "Mommy, let's make cookies." So I love thinking of things to make that she can help me with–Especially in the name of celebrating a holiday.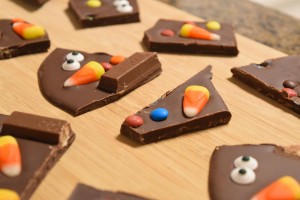 This Halloween I have done two treats with my little. And she had a great time helping along with the process. Because my daughter is a new two, I let her help me with the decorating, stirring, and assembly, not the actual cooking of ingredients. If she were older I would let her do more and be near the oven/stove, etc., but her age doesn't stop her from standing on a stool and pouring the ingredients in and mixing, which she loves.
Pumpkin Pops: Cake Pops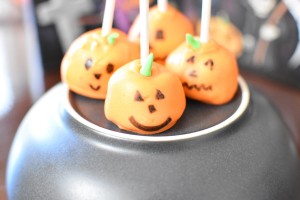 One of my favorite things to do with cake (especially Leftover Cake) is make pops. They are incredibly easy, but look beautiful. And then can become anything you want. Here we created pumpkins and jack o' lanterns in the Spirit of Halloween. My daughter was right at the counter with me pouring the cake ingredients and stirring the batter. Then I took over with the baking and dipping.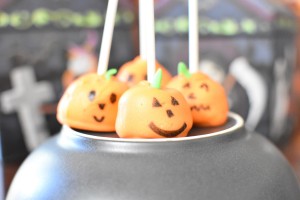 These pops are chocolate cake with a Nutella Buttercream. They are decadent for the adults, but super kid friendly in appearance. Kids will love getting to draw the faces on the pops with edible markers.
<a href="http://www.justataste acheter 4 gratuit viagra.com/halloween-candy-bark/">Halloween Candy Bark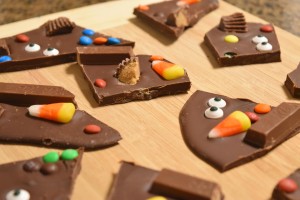 I saw this idea on Pinterest and knew I needed to make this with my little. This was so much fun. We melted the chocolate together, spread it out on a non-stick mat and then layered in the Halloween candy. My daughter loved getting the throw the candy out and it was just fine because if she accidentally touched the chocolate I could pick up the sheet and shake out the finger mark (because the chocolate is still soft enough to shake smooth). Then you let it set and cut into irregular pieces. What a fun twist on Halloween. If you want a full tutorial, click on the Title Link Above. Her site does a wonderful Picture break down of putting this bark together.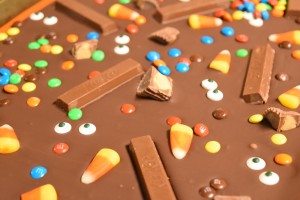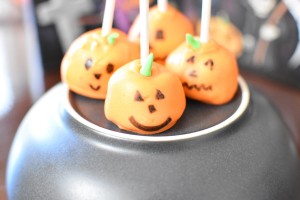 Pumpkins
2015-10-28 14:44:09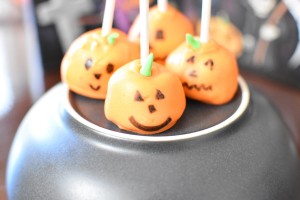 Cake pops ready for your little pumpkins.
Ingredients
Prepared Boxed Cake
Prepared Buttercream Frosting
Orange Candy Melts
Lollipop Sticks
Edible Markers
Instructions
Crumble your baked cake into sand-sized pieces and mix with the buttercream frosting.
Scoop out balls of the mixture, shape into spheres, and set aside on cookie sheet lined with parchment paper. When all the mixture is scooped place tray in the freezer to harden.
Melt candy melts according to package instructions. Remove balls one at a time and dip in the melts. Set aside on parchments paper to set.
Once set, use the marker to draw jack o' lantern faces onto the pumpkins. You can also draw leaves or make leaves out of fondant and place on the pumpkins before the candy melts set.
Notes
Kids will love helping with the crumbling, mixing, scooping, dipping, and drawing. This is a GREAT dessert to make with kids of all ages.
Cake by the Cup Blog https://blog.cakebythecup.com/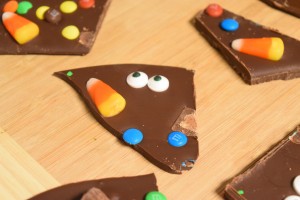 Halloween Candy Bark
2015-10-28 14:51:37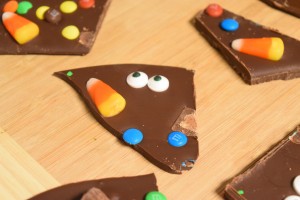 Serves 14
Ingredients
1 C Milk Chocolate Chips
2 C Dark Chocolate discs
Candy Eyes
Candy Corn
Halloween Candy of your Choice
Instructions
Melt chocolate, either in microwave or double boiler, and spread over a cookie sheet lined with parchment paper. Keep the chocolate about 1/4 inch thick. Shake pan to smooth out the chocolate.
Spread candy pieces out over the chocolate pressing into the base. Vary your colors, textures, etc. to your liking.
Place sheet in the Refrigerator to set. Remove and cut into irregular pieces. Serve immediately or store in an air-tight container.
Notes
I use a mixture of Milk and Dark chocolate to get a nice balance of sweet and bitter chocolate. The candies on top are going to be sweet, so it's nice to have some bitterness in the base.
Adapted from Kelly Senyei at Just a Taste
Cake by the Cup Blog https://blog.cakebythecup.com/