Something that I love about the end of Summer is that Fall is here. I love Fall. It has always been my favorite season.
I love the leaves changing color, jackets, scarves, and pie! Warm, spiced fruit pies, creamy custard pies, and rich chocolate pies–I can't get enough. My husband is a fruit pie guy and his favorites are apple and cherry, so this one is for him.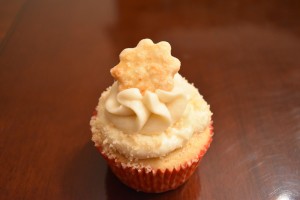 I love to use the brown sugar cupcake for pie recipes because it is reminiscent for pie crust without actually being a flaky crust. The brown sugar cakes also have more moisture that is perfect when paired with an apple pie filling. But it's the crumble topping, vanilla buttercream, caramel, and pie crust cookies that really make this cake over the top.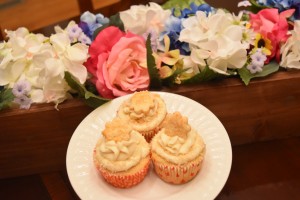 This cake is actually a brown sugar, buttermilk cake. The buttermilk not only helps with rise, it also adds a nice tang to the cake, which could be overly sweet with all the sugar on top.
Finally, for the pie crust toppers, make your own favorite recipe or buy a roll out crust from the grocery store. Either will taste great once you've baked the cookie. For the cookie, roll out your dough and cut into your desired shape using a cookie cutter. Then brush the dough with an egg wash and sprinkle with a cinnamon sugar mixture. This is the perfect topper to a pie cupcake.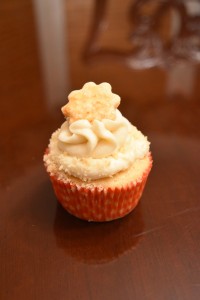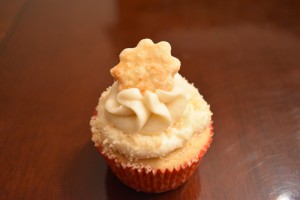 Brown Sugar Apple Pie Cupcakes
2015-09-07 08:55:42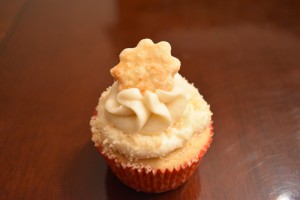 Warm, delicious apple pie cupcakes topped with a cinnamon, sugar pie crust cookie.
For the Filling
3 Apples, Chopped
1 tsp Cinnamon
1 tsp Nutmeg
1/3 C Light Brown Sugar
1 tsp Flour, if needed
For the Cupcakes
1 C Flour
1/2 C Cake Flour
1 1/2 tsp Baking Powder
1/4 tsp Salt
1/2 C Butter, room temperature
1 1/4 C Packed Brown Sugar
2 eggs
1 tsp Vanilla
1/2 C Buttermilk
For the Crumb Topping
1/3 C Sugar
1/4 C Flour
2 Tbsp Butter, Cubed
For Caramel
1/2 C Sugar
3 Tbsp Butter
1/4 C Heavy Cream, generous
For the Filling
Mix all ingredients, except flour, in a medium sauce pan. Cook on medium heat until apples are soft and the sauce thickens, ~ 30 minutes. If the sauce is not thickening, add a little flour, but make sure to cook-off the raw flour flavor before removing from heat.
For the Cupcakes
Preheat oven to 325 degrees and line cupcake pan with paper liners
Whisk together flours, baking powder, and salt in a small bowl; set aside
Cream butter and sugar together until light and fluffy. Add eggs mixing after each addition. Mix in vanilla. Alternate adding buttermilk and dry ingredients in 3 three additions, beginning and ending with the flour mixture.
Fill liners with batter about 1/2 - 3/4 of the way full. Bake for 20-25 minutes or until a tester is inserted in the center of the cakes and comes out clean
For the Crumble
Combine sugar and flour in a small bowl. Cut in butter and clump mixture into pea-sized balls. Bake spread over a cookie sheet at 350 until golden color (~8 minutes)
For the Caramel
Cook sugar in a sauce pan over medium heat. Whisk occasionally as the sugar breaks down and melts. The sugar will begin to clump and look like a complete mess. Continue cooking until it is melted and a light amber color. Add butter and whisk until melted. Add cream and whisk until smooth. Remove from heat
Putting it all Together
Cut a hole in the cakes and fill to the rim with pie filling
Top with your favorite vanilla buttercream and roll in crumble topping
Drizzle with caramel sauce
Top with the cut pie crust cookie
Cake by the Cup Blog https://blog.cakebythecup.com/