There is nothing that I love more than a delicious Chocolate Chip Cookie–NOTHING. Honestly they are what I wish I could live on. So one night I was thinking, hmm what is something that I can do with my favorite cookie that is a little more dressed up than just serving cookies for dessert. We had family coming over, and so I wanted to make something a little more special. So this was what I came up with: Ice Cream Cookie Sandwiches.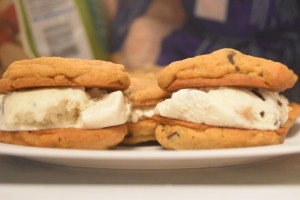 Ice Cream Cookie Sandwiches are a crowd pleaser. They bring you back to your childhood and evoke such wonderful memories that no one can resist the pull of the cookie sandwich. One thing that I like to do is use this as a quick-fix dessert. These can be assembled so quickly and simply if you do two things.
First, use store bought ice cream and second, freeze pre-portioned cookie balls. You know you like your own cookie recipe better than the general break and bake, so why not make a batch ahead, scoop it out into cookie balls, and then freeze them. The dough will last for weeks in the freezer and then you can bake homemade cookies in a pinch.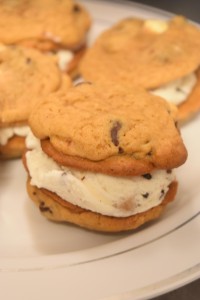 When making these the easy way here are a few things to remember,
Bake the frozen pre-portioned cookies for about 4 minutes longer than usual. The dough can be put directly from the freezer to the preheated oven, you just have to increase the bake time.
Allow the cookies to cool completely before putting ice cream on them. That may seem like a silly reminder, but you may get so excited that you just go for it and the ice cream will melt, which creates a big mess instead of a tasty treat.
Allow the ice cream to soften slightly before scooping it onto the cookie. This will make it easier to press the sandwich together and get a good, full cookie.
This is also a great thing to make with your kids. They can be right there scooping the ice cream and pressing the sandwiches together. And they will love spending time with you in the kitchen. Especially if you roll the edges in candies or chocolate chips! That makes them look a lot more complicated and it only takes a second.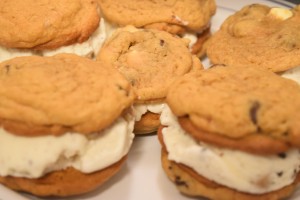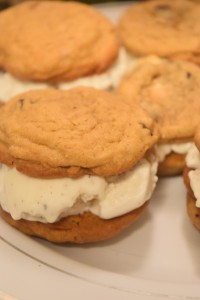 Chocolate Chip Cookie Ice Cream Sandwiches
2015-10-06 16:49:19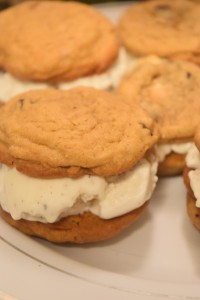 Ingredients
Prepared Cookie Dough
Ice Cream
Instructions
Bake cookies as described in directions. If using frozen dough remember to increase baking time.
Allow cookies to cool and pull out ice cream to soften.
Scoop softened ice cream onto the bottom side of one cookie and then press a second cookie down on top, creating a sandwich.
Place cookies bake in the Freezer until you are ready to serve.
Notes
What makes this awesome is that it works with any flavor of cookie and ice cream, so you can make as many flavor combinations as you can think of!
Cake by the Cup Blog https://blog.cakebythecup.com/