Carrot Cake is one of my husband's favorites, so when I see a new recipe for a carrot cake I have to give it a try—Especially if it's listed as being award winning. I was watching "The Kitchen" the other day and their guest visitor, Elizabeth Chambers, showed them how to make her special carrot cake minis. She is the owner and baker at Bird Bakery in Texas and these little treats hit all the right spots.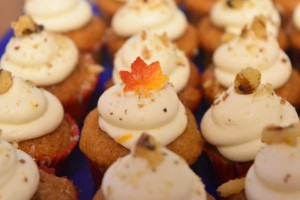 The recipe calls for all the mix-ins, carrots, raisins, pineapple, and walnuts so they are packed with flavor and texture. But what really did it for me was the addition of orange to the cream cheese frosting. That little bit of orange zest adds the perfect brightness to lighten the full cake.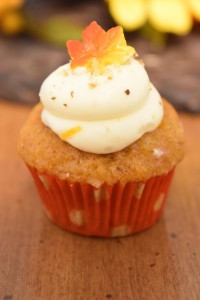 Minis are the perfect size for this recipe because of how packed-full of flavor they are. Just remember that you'll want a good dollop of frosting with the cake. Mini's need a good 50/50 ratio of cake to frosting. That way you get the perfect about of sweet with the texture of the cake.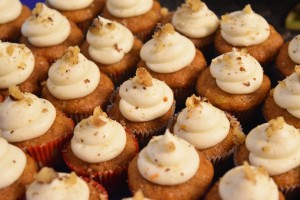 In my version, I left out the raisins because they are not something that I enjoy, but that is the only thing I left out, you can look here for her official recipe (courtesy of The Kitchen).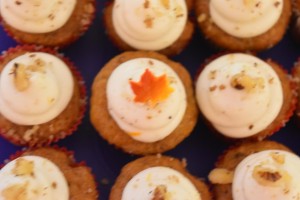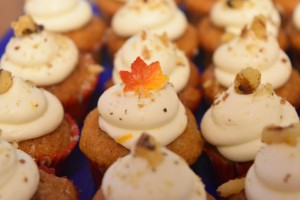 Carrot Cake Minis
2015-10-28 17:26:54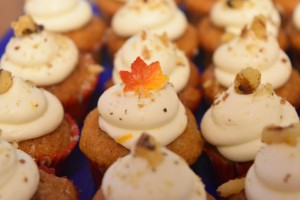 The ultimate carrot cake mini with an orange cream cheese frosting.
For the Cakes
2 C Flour
1/2 Tbsp Baking Soda
1/2 Tbsp Cinnamon
1/2 tsp salt
3 Eggs
3/4 C Sunflower Oil
3/4 C Buttermilk
1 3/4 C Sugar
1/2 Tbsp Vanilla
1 C Chopped Pineapple, drained
1 C Shredded Carrots
1/2 C Shredded Sweetened Coconut
1/2 C Chopped Walnuts, plus garnish
For the Frosting
1 C Unsalted Butter, softened
1 C Cream Cheese, softened
5 3/4 C Powdered Sugar
1/4 C Milk
3/4 Tbsp Vanilla
zest and juice of 1 small orange
Instructions
Preheat the oven to 350 degrees F. Line mini cupcake pans with cupcake liners.
In a small bowl, sift together the flour, baking soda, cinnamon and salt. Set aside. In a large bowl, beat together the eggs while adding the oil, buttermilk, sugar and vanilla one at a time. Mix until well incorporated. Slowly add the flour mixture into the large bowl to combine. Stir in the pineapple, carrots, coconut, and walnuts.
Scoop the batter into the prepared cupcake pans, filling each cup about three-quarters of the way full. Bake for 12 to 15 minutes (see Cook's Note). Let the cupcakes cool completely before frosting with the Cream Cheese Frosting. Garnish with additional chopped walnuts.
Cream Cheese Frosting
In a stand mixer with the paddle attachment, beat the butter, cream cheese and confectioners' sugar. Then slowly add in the milk, vanilla and orange zest and juice and mix until combined.
Notes
Cook's Note: You can use regular cupcake pans if you prefer, though the baking time will be longer, about 20 minutes.
Adapted from Elizabeth Chambers
Cake by the Cup Blog https://blog.cakebythecup.com/