For years I have heard of the dreaded Christmas Fruit Cake. I have been told of their denseness. Their odd flavor. Their candied fruits and rind. I have heard that it is something passed around, a Christmas gift exchanged–the most unwelcome gift–and that is something heavy you receive in the mail from a senior relative. The tales of the Fruit Cake are varied and readily spread. But I have to say that making Fruit Cake into cookies is one of the best things anyone can do this holiday season.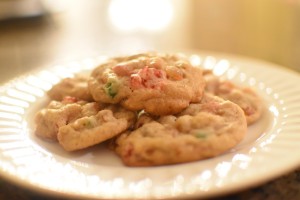 My mother requested that I make her a batch of Fruit Cake Cookies. She didn't have a recipe for me to use, but she had heard of them from someone else and thought we should give it a go. So this is what we came up with. This is a lightly cinnamoned cookie packed with nuts and candied fruit. You may need to mix this batter by hand in the end. The dough should be thick to hold its shape in the oven. With the thick batter, there will be little spreading, so spread them on the sheet an inch or so apart.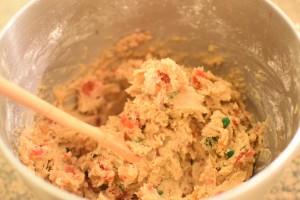 The cookie dough alone is light and fluffy. (In fact, if you are looking for a good cinnamon snap try making this batter without the candies and nuts, bake for 9 minutes instead of twelve, and pop that baby in your mouth for a melting experience.)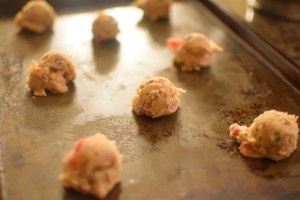 With the mix-ins though, this kills the idea that fruit cake should be dreaded. These are easy to make–a mix and bake cookie with no refrigeration required. The final sell–They freeze well as break and bakes. Take your extra batter, scoop it into balls, and freeze in a airtight bag or container for tasty treats throughout the season.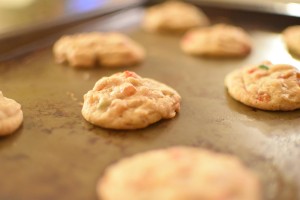 This is a new holiday favorite from our family to yours. Enjoy 😀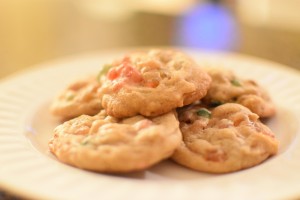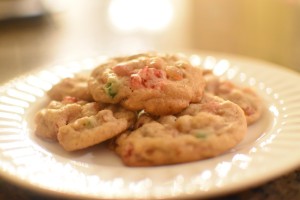 Cinnamon Fruit Cake Cookies
2015-12-16 18:18:43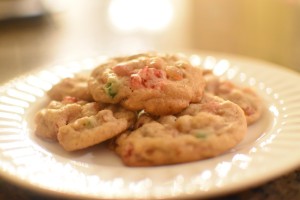 Cinnamon and fruit cookies for the holiday season.
Ingredients
1 C Butter, softened
3/4 C Brown Sugar, packed
1 egg
1 tsp Vanilla
2 C Flour
1/2 tsp Salt
1/2 tsp Baking Soda
1 tsp Cinnamon
1/2 C Fruit Cake Mix
8 Red Candied Cherries, quartered
1/2 C Chopped Walnuts and Pecans
Instructions
Preheat oven to 325 degrees
Cream together butter and brown sugar. Mix-in egg and vanilla until incorporated. Set aside
Mix Flour, salt, baking soda, and cinnamon in a medium bowl with a fork.
Gradually add the dry mixture into the wet mixture stirring after each addition. If the batter becomes to thick for your mixer, remove from base and stir in remainder by hand.
Add fruit mix, cherries, and chopped nuts, stir to incorporate. Scoop tsp sized balls onto ungreased pan.
Bake cookies for 10-12 minutes for desired softness. Remove and allow to cool on the pan for about 5 minutes before moving to a cooling rack.
Cake by the Cup Blog https://blog.cakebythecup.com/