Summer time is about the only time in the year that I actually want to entertain. I am not really one for inviting lots of people over. I just like simple evenings at home–Quiet simple evenings. I also feel like I clean all the time anyways, so the idea of cooking for people and then cleaning up after lots of guests is just something that takes me a while to get excited about. This rule, however, does not apply in the Summer. The beautiful weather just makes me want to have people over to play outside, eat hot dogs, and try a lot of new desserts.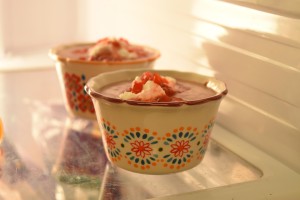 This is one of my absolute go-to desserts for a summer party. It is simple to make. It's only three ingredients. It makes a large batch. And everyone always thinks it's something much more complicated than it is. This chocolate hazelnut mousse is amazing!
It starts with making a chocolate pudding mix. I always use the cook and serve. I have never really liked the instant, but either will work. However, if you are into alternative milks, pudding mixes need the fat and proteins from cow milk to set properly. Using almond or soy milk will not work the same.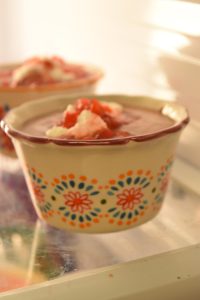 Once your mix is made mix in the Nutella until smooth. Then finally you fold in your whipped cream. And the whipped cream can either be one case of cool whip or 12 oz homemade. That is up to you. I think that fresh, full-fat whip cream is the best thing ever. But either way it is yummy. Once folded put in the refrigerator to chill before serving. This can be served as is or with more cream on top. I also like to add some berries or jam and berries for some new flavors. It's also amazing with cookies. Just give it a go for your next event. You can also make individual portions like these photographed for smaller dinner parties.
Chocolate Hazelnut Mousse
2016-05-09 23:08:36
Rich and decadent Chocolate Mousse that will please any crowd.
Ingredients
1 Box Chocolate Pudding Prepared as instructed
1/4 C Nutella Spread
1 1/2 C Whipped Cream
Instructions
Whisk Nutella spread into pudding until smooth.
Fold in whipped cream until incorporated.
Serve with fun toppings or as is. It is delicious.
Cake by the Cup Blog https://blog.cakebythecup.com/