I am not much of a frosting person. I have said that before when I mention my love of Swiss Meringue Buttercreams. Because I have a very deep and personal relationship with that particular light, fabulous frosting. This, however, is a pretty good frosting. I say that not because it isn't good, but because I believe it, like all things, has it's place. This frosting belongs on a chocolate brownie cupcake. In fact, I would say it is made to top a brownie.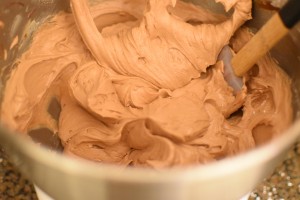 My family didn't do much with brownies when I was growing up. We really didn't even make them, but we certainly didn't frost them. That was a concept I was introduced to when I went to college. Suddenly everyone was talking about the campus bakery's frosted brownies. I learned then that there are a lot of people in the world that only love a gooey delicious brownie adorned with creamy, sugary frosting.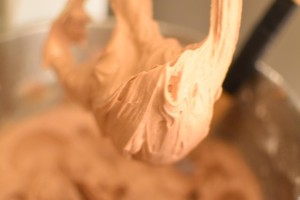 This frosting is not too sweet (which has always been my largest problem with frostings). By whipping in the bitter chocolate ganache you really create a balance between the bitter and sweet that completes a soft chocolatey brownie. Also, I like to keep this thicker to give it a rich fudgy texture. So the taste is thick, but the chocolate isn't overpowering. That means that the brownie underneath really gets to shine, but this sparkles like the decoration that it is.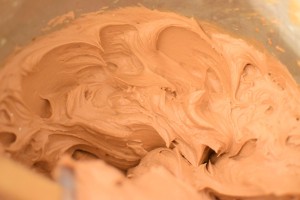 When making frosting, be sure that you allow the butter to soften and that you keep the ganache at room temperature. That will help keep things smooth. Sorry I don't have any pictures of this piped onto the cupcakes. They went too fast and I forgot to pull out a camera. But weather you put them on brownie cupcakes or just a try of your favorite, this frosting is a winner!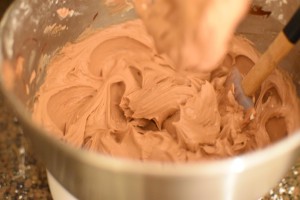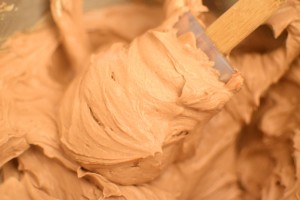 Chocolate Fudge Frosting
2015-12-29 10:24:41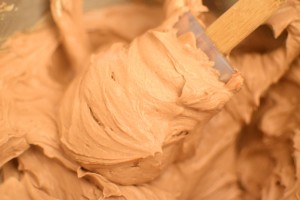 Ingredients
1 C Butter, Softened
3 C Powdered Sugar
1 Tbsp Heavy Cream
2 tsp Vanilla
1/2 C Dark Chocolate Ganache
Instructions
Cream Butter at medium speed in the bowl of your standing mixer
Add sugar in one cup at a time, stirring after each addition
mix in vanilla and heavy cream
Fold in ganache until creamy and fully incorporated
Notes
Adjust texture of the frosting by adding sugar or cream depending on if you need it loose or tight.
Cake by the Cup Blog https://blog.cakebythecup.com/