So Christmas time is the season for Mint, and I love getting to make chocolate/mint anything achat generique viagra. There is just something so perfect about rich chocolate with a fresh bite of mint. This ganache recipe is super easy and makes a great frosting or filling for any chocolate cupcake. These are Chocolate cupcakes, with a mint ganache filling and a swirl of chocolate ganache and buttercream on top. It's the perfect bite to begin the Christmas season.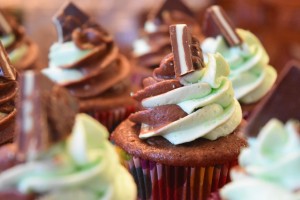 One thing that I love about ganache is that it is so versatile. It's simple to make because all you need is heavy cream and chocolate, but then you can use it for drizzling a garnish, pouring a frosting, filling a cake, or frosting just about anything. Its purpose changes based on the ration of chocolate to cream and weather or not you chill and whip the end product. In some ways I think ganache is God's gift to a home baker because one simple thing can accomplish so much.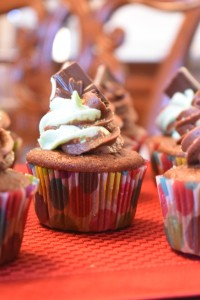 I wanted to keep this recipe a little thick, so that there would be a nice fudgy filling in the center of the cupcakes. To keep it thick I made sure to have a lot of chocolate chips in the mixture. Then after allowing the hot cream to melt the chocolate, I whisked until smooth and then allowed the ganache to sit out and thicken a little more. I'm sorry there isn't a picture of the inside of these cupcakes, but the ganache is dark and think–just like chocolate fudge.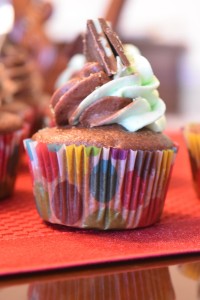 To give it a really great mint flavor I used these filled chocolate chips that I found in the clearance section of WalMart. I had never used these before, but they are truly perfect for a simple and foolproof ganache.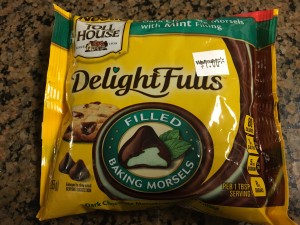 Happy Holidays from my family to yours!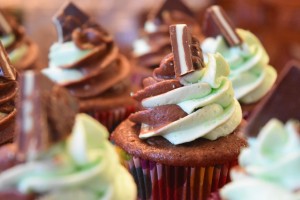 Chocolate Mint Ganache
2015-12-02 14:44:38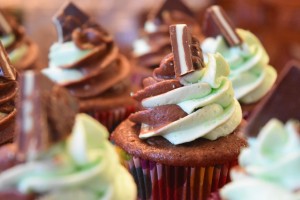 Rich, fudgy chocolate ganache with a taste of mint.
Ingredients
1 C Heavy Cream
9 oz Bag Chocolate Mint Filled Morsels
Instructions
Heat cream on stove top until almost at a boil (about 6 minutes).
Pour hot cream into a glass bowl filled with your chocolate morsels and set aside as the cream melts the chocolate (about 6 minutes).
Whisk mixture together until completely smooth. Use immediately as glaze or drizzle. Set aside to thicken for a rich filling. Chill in refrigerator and whip with a electric mixer for a whipped filling or frosting.
Cake by the Cup Blog https://blog.cakebythecup.com/