One thing that I can't get enough of is hot chocolate. I love hot chocolate year round. I also love it hot or frozen. Hot chocolate is simply delicious– creamy, rich, and gooey (from the marshmallows).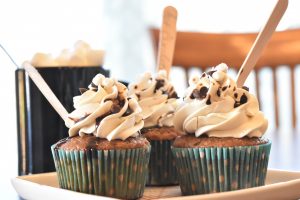 I drink it so often that my daughter just thinks of it as Mommy's drink. She won't even try the stuff. That's why I wanted to come up with an easy way to let her taste hot chocolate disguised as something she already loves– cupcakes.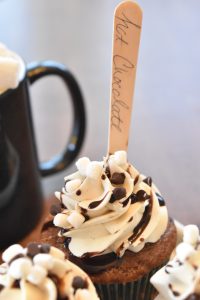 This recipe is one of my go-tos. That's because it started with a boxed yellow cake mix. Anything that starts boxed is so much easier. Even if you have all the other ingredients, it's so much easier to make a mix.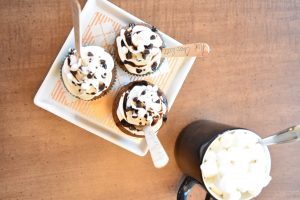 The trick to these is adding hot chocolate and non-dairy creamer. The hot chocolate takes the place of the water in the recipe. So if your box calls for 1 C water. Measure out 1 C of very hot water. Add to that 3/4 C hot chocolate mix (any kind) and 1/4 of non-dairy vanilla creamer. Stir until combined and them pour into your cake mix with the required oil and eggs.
The creamer will help to keep the cupcake super moist and is a great way to change up the flavor. You can use any of the dry creamers. So try it with hazelnut, vanilla caramel, or any of the others that sound good to you. You won't regret making your own variations.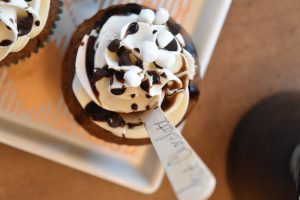 These cupcakes are filled with a whipped chocolate ganache and topped with a vanilla, swiss meringue buttercream frosting. You might just think you are drinking the real thing when you take a bite!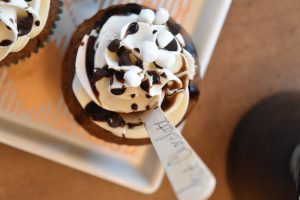 Hot Chocolate Cupcakes
2016-11-04 21:18:31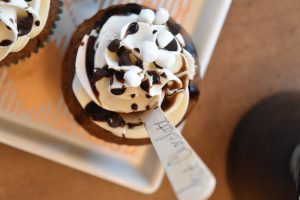 Creamy Hot Chocolate Cupcakes
Ingredients
Yellow Cake Mix
1 C Hot Water
3/4 C Hot Chocolate Mix
1/4 C Powder Non-Dairy Creamer
Oil and Eggs as Directed on Package
Instructions
Preheat oven to 350 degrees and line cupcake pan with liners
Empty cake mix into bowl. Measure out hot chocolate mix and creamer into a 1 C measuring cup. Fill with hot water and stir to combine. Add to cake mix. Add in oil and eggs. Stir until just combined
Separate batter into prepared cupcake pans then bake for 20 minutes. They are ready when the cake rises and the tops can bounce back when pressed lightly. Remove from oven and allow to cool on wire rack before filling and/or frosting*
Notes
*If filling with ganache, I recommend a slightly sweetened whipped ganache made with1/3 C Powder Sugar, 1/4 C Dark Chocolate, 1/4 C milk chocolate, and 1/2 C Semi-Sweet Chocolate
Cake by the Cup Blog https://blog.cakebythecup.com/