I crave fruit cakes in the Summer. No, not the dense kind that's passed between families on "Friendship Plates" during the holidays, but those light, fruit flavored, filled, and topped cakes that are just right for a picnic or cook-out.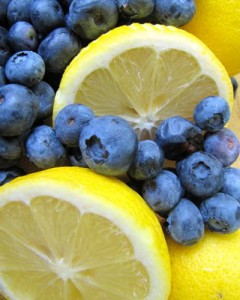 Now I absolutely LOVE strawberry and strawberry shortcake cupcakes; but my other favorite is lemon. There is just something about the combination of tart and sweet that can't be beat. And when you want lemon, nothing else will substitute. Especially when a good lemon cupcake is just a few minutes away.
This recipe is a variation of a Classic Vanilla Cupcake; There are two differences between this cake and the vanilla. First, you add a little lemon juice and lemon zest to the batter. Second, and most importantly, when the cakes come out of the oven, they are painted with a sweetly sour lemon glaze to ensure lemon flavor in every bite.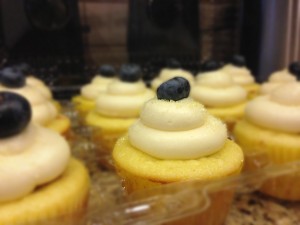 If you aren't as into lemons, try making the classic vanilla cake and filling it with the blueberry compote for a delicious blueberry cream cheese cupcake. You can even add some blueberries to the batter to make a cake that is packed with blueberry favor in both the cake and filling.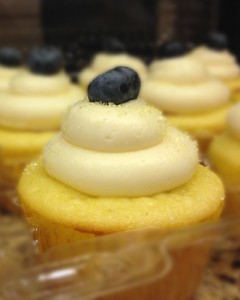 Lemon Blueberry Cupcakes with Cream Cheese Frosting
2015-07-14 17:07:55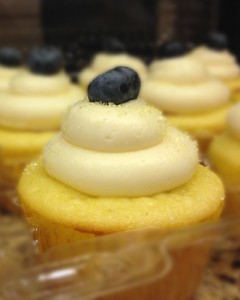 Light lemon cakes with blueberry compote and a vanilla cream cheese frosting.
For the Cake
Vanilla cake ingredients
1/4 C Lemon Juice
2 Tbsp Lemon Zest
For the Glaze
1/2 C Powder Sugar
1/4 C Lemon Juice
For the Blueberry Compote
1 C Blueberries
1/4 C Lemon Juice
1 C Sugar
1/2 tsp Corn Starch*
For Frosting
1/2 C Cream Cheese, Softened
1 tsp Vanilla
1 Tbsp Milk
1 C Powder Sugar
1 C Butter, Softened
2 C Powder Sugar
3 Tbsp Milk*
For the Compote
Pour berries and lemon juice in sauce pan, allow to simmer on medium heat to soften and release juices.
Add sugar to mixture, stir until combined and leave to simmer on medium heat while the cupcakes bake.
For the Cupcakes
Preheat oven to 350 degrees and line cupcake pan with liners.
Cream sugar and lemon zest together in a food processor until zest in combined and sugar is fragrant.
Whisk dry ingredients together in a small bowl and set aside.
Cream butter until fluffy, add sugar mixture and mix until combined and fluffy. Add eggs, one at a time, mixing after each addition. Add vanilla and lemon juice. Mix dry ingredients into the wet mixture in two batches until just mixed.
Reduce oven heat to 325 degrees and bake cupcakes for 20 minutes or until the batter is set and a toothpick come out clean.
While the cake bake, whisk the two ingredients for the glaze until smooth.
When baking is finished, glaze the cakes and allow them to cool. Then remove the centers fill with compote and frost.
For the Frosting
Using and electric mixer, beat cream cheese until fluffy. Mix in powder sugar until combined. Add vanilla and milk, set aside.
Beat butter until fluffy. Add powder sugar in two additions, mixing in between. Fold in the cream cheese mixture. Add additional milk or powder sugar to get desired texture.
Notes
*Use corn starch only if there is trouble with the compote thickening. Mix into a small amount of lemon juice before pouring into the compote to avoid clumping.
*Use up to 3 Tbsp Milk or an additional 1/2 C Powder sugar to get frosting to desired consistency.
Cake by the Cup Blog https://blog.cakebythecup.com/