While a Vanilla Cupcake Recipe is important to have, it may be even more important to find that perfect chocolate cupcake recipe. There is nothing like a creamy, moist and delicious chocolate cupcake. In fact, the right one can be almost as delicious as your favorite candy bar. But when done wrong, a chocolate cupcake can be crumbly, dry, and flavorless. And that is something that no cake lover appreciates.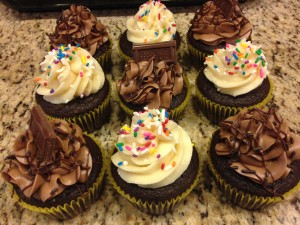 Many recipes call for the addition of coffee (about 3/4 Cup) to the batter because coffee helps to bring out the rich chocolate flavor while adding moisture to the cake. If you like coffee, that's great and you should check out this Brown Eyed Baker, Ultimate Chocolate Cupcakes recipe. While I haven't tried the cake, her filling and frosting are divine, so it's definitely one worth tasting again and again.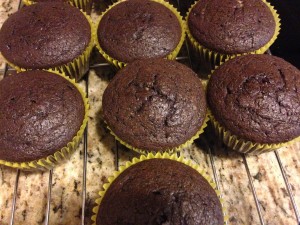 I, however, stay away from coffee. It's not something I drink and so I don't keep it around (I prefer to get my morning pick-me-up from a good apple and to cuddle-up on the couch with a book and a cup of hot chocolate on a cold winter night). So my melt-in-your-mouth chocolate cake is packed with chocolate flavor and sour cream. The sour cream thickens the batter, making it very easy to scoop, and still intensifies that rich chocolate flavor that chocolate lovers know and can't live without.
When you are baking, don't be startled by the thick almost mousse-like texture, that's exactly as it should be. And the recipe is fantastic.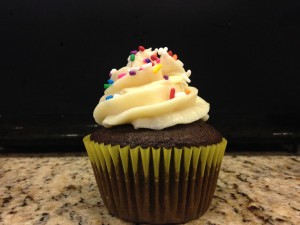 I love this cake with the traditional vanilla frosting, but it's also amazing as a triple chocolate cake (with a chocolate ganache filling, rich chocolate buttercream, and a chocolate drizzle). If you are looking for some fun in the sun, consider trying this cake filled with a coconut whipped cream and topped with coconut butter cream, toasted coconut flakes, and a coconut caramel… Yum…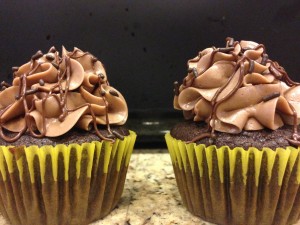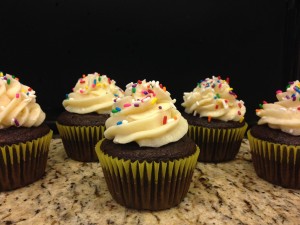 Sour Cream Chocolate Cupcakes
2015-07-06 11:35:51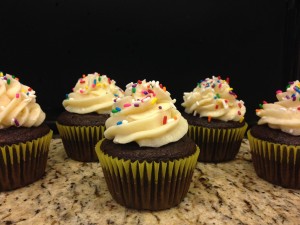 For the Cupcakes
3/4 C unsweetened cocoa powder
3/4 C hot water
2 C all-purpose flour
1 C cake flour
1 tsp baking powder
1 tsp baking soda
1 1/4 sea salt
1 1/2 C unsalted butter, softened
2 1/4 C sugar
4 large eggs, at room temperature
4 tsp vanilla extract
1 C sour cream, at room temperature
Instructions
Preheat oven to 350 degrees and line cupcake pan with liners; set aside.
In a small bowl or measuring cup, whisk together hot water and cocoa powder until combined; set aside.
In a small bowl, whisk together flours, baking powder, baking soda, and salt; set aside
In a large mixing bowl, beat butter until light and fluffy. Add sugar to the butter and continue beating until combine, smooth, and fluffy. Mix in eggs one-at-a-time, scraping down sides of the bowl and mixing between each addition. Mix in vanilla until combined. Mix-in chocolate mixture.
Mixing at a low speed, add dry ingredients in two batches, alternating with the sour cream. Mix until incorporated, but be careful not to over mix. Batter will be thick.
Divide batter into prepared liners, filling about 2/3 of the way. Bake for 18-20 minutes or until a toothpick can be inserted into the middle and come out clean. Tops will be firm to the touch with a little bounce in the cake.
Allow cupcakes to cool in pan for about 5 minutes, then transfer to wire rack to finish cooling before filling and/or frosting.
Cake by the Cup Blog https://blog.cakebythecup.com/