October 24, 2016
stacynoren
I had never had a pumpkin cookie until I moved to Utah for school. Out there though–they are a sign of Fall. A sign that I became accustom to and have been craving this year. So as soon as the leaves began to change and we had two days with a slight chill I started making these cookies and I have not stopped.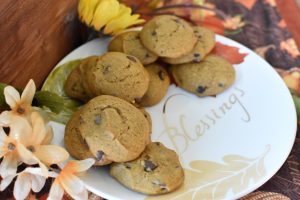 For me this may have something to do with some pregnancy cravings. Because while I like veggies and fruits, I have never wanted them in everything I eat the same way I have with this pregnancy. I love chocolate chip cookies, but this year I can't eat them unless they have pumpkin and a little spice in the mix.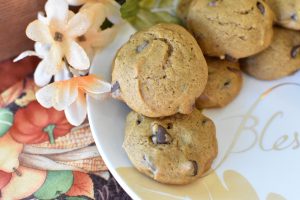 This recipe is for a soft cake-like cookie because that's the one I was first introduced to and the way I think they should be done.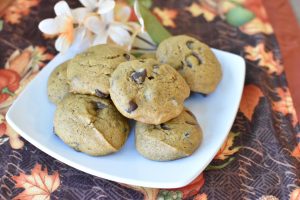 Now, the recipe makes 3 to 4 dozen, which is a lot to make in one go for a pregnant lady and her pumpkin cookie loving daughter, so they are a great candidate for flash freezing. I make the full batch, bake the number I want, and then freeze the rest for a quick fix anytime. Scoop the dough out, as if you were going to bake them, then put them in the freezer for 30ish minutes until they are hard enough to move to a freezer bag. This will keep them from molding together into one large cookie. Then when you want to bake a cookie or 12, pull out the frozen cookie bits, arrange them about 1 in apart on a cookie sheet and bake for 14-15 minutes at 350 instead of 12 minutes.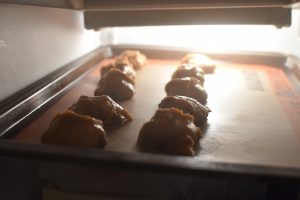 Ready to bake and ready to eat…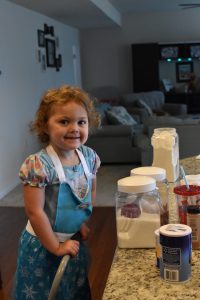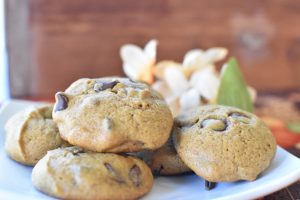 Pumpkin Chocolate Chip Cookies
2016-10-24 23:45:55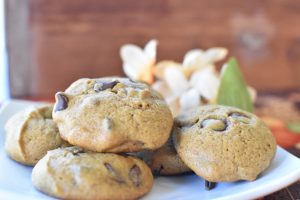 Cakey, Spice Pumpkin Chocolate Chip Cookie.
Ingredients
2 C Flour
2 tsp Baking Powder
3/4 tsp Baking Sosa
2 tsp Cinnamon
1 tsp Pumpkin Pie Spice
1/2 tsp Salt
1/2 C Sugar
1/2 C Packed Brown Sugar
1/2 C Sunflower Oil
1 Large Egg
1 tsp Vanilla
8 oz Pumpkin Purée
1/2 C Milk Chocolate Chips
1/2 C Semi-Sweet Chocolate Chips
Instructions
Preheat oven to 350 degree and line baking sheet with silicon baking mat or parchment paper.
In a medium bowl, whisk together flour, baking powder, baking Sosa, cinnamon, pumpkin pie spice, and salt. Set aside.
In a large bowl, whisk together sugar, brown sugar, sunflower oil, egg, vanilla, and pumpkin until smooth. Slowly stir in dry ingredients using a wooden spoon before incorporating the chocolate chips. Batter will be gummy, but that is not something to worry about.
Scoop batter onto sheet about 1 in apart and bake fully. This is not a cookie that you want to have raw. The cookie with rise up and be fluffy like a cloud when baked. Allow to cool on pan for a minute before transferring to wire rack to cool completely.
By Stacy Noren
Cake by the Cup Blog https://blog.cakebythecup.com/