One thing that I love about Summer and Fall is cobbler. I think it's one of those desserts that warms your soul and so you can use those Summer fruits in a nice warm Fall Dessert. This cupcake tastes just like a bit of a moist, warm cobbler and it leaves you coming back for more.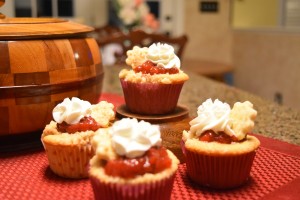 The base is a Brown Sugar Cupcake because that sweet, moist, molasses flavor really brings you into a cobbler feel. I also recommend using buttermilk with this recipe, not only for the rise, but also for a slight tang. Before baking, press the tops of the batter with crumb topping. This will bake into the top of the cupcake, perfect for a crispy layer at the top of the cake. I focus my crumb topping around the outside rim of the cake because the centers will be cut out and filled with the vanilla, strawberry compote. The last taste of Fall is added in the cinnamon whipped cream garnish. This simple touch with transport you to that perfect fall picnic under the changing leaves.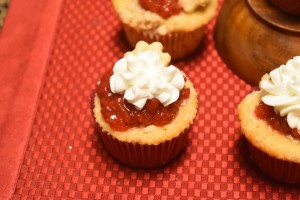 When baking, I choose to pull the cakes out when they are still slightly underdone. I like the added moisture and the cobbler effect. One of the things I love about cobbler is the crisp of the topping with the wet fillings below, and keeping the cakes slightly underdone adds to that effect.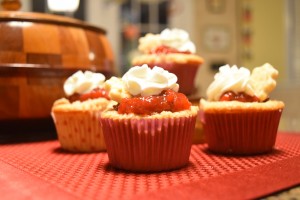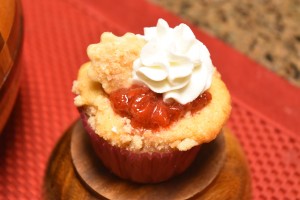 Strawberry Cobbler Cupcakes
2015-09-29 17:00:01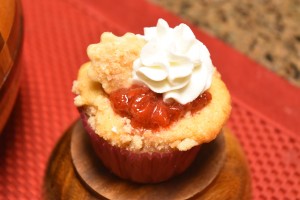 Sugary, Sweet Brown Sugar Cupcake for both Summer and Fall.
For the Crumb Topping
1/4 C Flour
1/3 C Sugar
2 Tbsp Butter, Cubed
For the Cupcakes
1 C Flour
1/2 C Cake Flour
1 1/2 tsp Baking Powder
1/4 tsp Salt
1/2 C Butter, room temperature
1 1/4 C Packed Brown Sugar
2 eggs
1 tsp Vanilla
1/2 C Buttermilk
For the Compote
10 Large Strawberries
1/3 C Sugar
2 tsp Vanilla
For the Garnish
1 C Heavy Whipping Cream
1/2 C Sugar
1/2 tsp Cinnamon
For the Crumb Topping
In the bowl of a food processor cut flour and sugar together
Add cubed butter and pulse until combined into a beaded texture
Clump into pea-sized spheres
For the Cupcakes
Preheat oven to 325 degrees and line cupcake pan with paper liners
Whisk together flours, baking powder, and salt in a small bowl; set aside
Cream butter and sugar together until light and fluffy. Add eggs mixing after each addition. Mix in vanilla. Alternate adding buttermilk and dry ingredients in 3 three additions, beginning and ending with the flour mixture.
Fill liners with batter about 1/2 - 3/4 of the way full. Top with Crumb Topping around the rim of the cake. Bake for 16-18 minutes or until a tester is inserted in the center of the cakes and comes out clean
For the Compote
Cut or pulse Strawberries to desired texture then place in sauce pan over medium heat. Cook, stirring occasionally to release water, about 4 minutes; stir-in sugar and cook over medium heat for about 20 minutes or until desired thickness is met.
Remove from heat and stir in vanilla
For the Garnish
In a chilled bowl, beat heavy cream and sugar together until thickened and stiff
Fold in cinnamon to taste
Cake by the Cup Blog https://blog.cakebythecup.com/