When I was in 5th grade my mother gave me two books about a boy wizard. I wasn't all that interested in reading at that age, but I figured I should give them a try. (Mom found them at the counter of a Zany Brainy, so how bad could they be?) I started reading chapter one at least 10 times, believing that I would never be interested in the happenings of 4 Privet Drive, but the 11th time was the beginning of something special. When I finally got going, I was hooked and that began a longtime love with all things Harry Potter– Midnight book releases, movie tickets, lightening bolt tattoos, thick black glasses, Bertie Bott's Beans, and BUTTERBEER!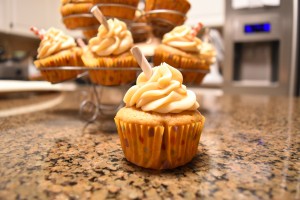 I have always wanted to taste Butterbeer. They make is sound so delicious in the books, so when I visited Orlando Studio's Wizarding World of Harry Potter, I was right there drinking Butterbeer. It's cool, creamy, and filled with deep Butterscotch flavor, Just like these cupcakes.
These Butterbeer cupcakes are filled with cream soda and butterscotch. You use both of these in the cake batter itself (the soda actually helps give the cupcakes nice lift and shape). The filling is made with a butterscotch ganache and the frosting is a butterscotch buttercream… So basically you can't miss the butterscotch in this magical creation.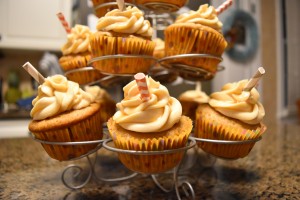 I make the Butterscotch ganache just as you would a chocolate ganache–melting chips into warmed heavy cream. The only change is substituting the chocolate chips for butterscotch chips. These, however, have a distinct flavor, so a variation for people with an aversion to these chips is to make a butterscotch whipped cream. I often prefer this because of it's lightness and the flavor. Make your whipped cream by folding butterscotch ice cream topping into fresh whipped cream. It is unbelievably delicious. These cakes would be Harry Potter approved for sure.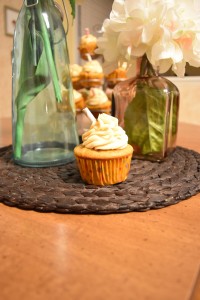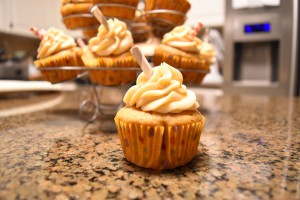 Butterbeer Cupcakes
2015-08-28 17:01:36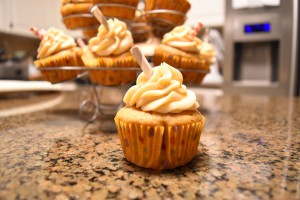 Warm, Rich Butterbeer cupcakes that every wizard and muggle with love.
For the Ganache
1 package of Butterscotch Chips
1 C Heavy Cream
For the Cakes
1 C Flour
1 C Cake Flour
1 1/2 tsp Baking Powder
1/2 tsp Baking Soda
1/4 tsp Salt
1 Stick Butter, Softened
1/2 C Sugar
1/2 C Packed Brown Sugar
3 Eggs
1 1/2 tsp Vanilla
1 tsp Butter Flavoring
1/2 C Buttermilk
1/2 C Cream Soda
For the Frosting
1 Stick Butter, Softened
1/3 C Butterscotch Ganache
1 tsp Vanilla
1 tsp Butter Flavoring
1/8 tsp Salt
2 C Powdered Sugar
2-3 Tbsp Cream
For the Ganache
Pour chips into a glass bowl, set aside
Warm cream over medium heat. When warm pour over the chips and set aside ~5 Minutes to allow chips to melt
Stir mixture together until smooth
Set aside 1/2 C for drizzle and place the rest in the refrigerator to cool, at least 2 hours
Whipe ganache mixture until light and creamy. Consider adding 1.3 C Sugar for additional texture and sweetness
For Cakes
Preheat oven to 35 degrees and live cupcake pan with liners
Combine flours, baking powder, baking soda, and salt in a medium bowl, set aside
Cream butter at medium speed until fluffy. Add sugars and continue to cream them together until combined and smooth. Add eggs beating between additions. Pour in vanilla and butter flavoring, beat to combine
Alternate between adding flour mixture, buttermilk, and cream soda stirring between additions and ending with flour to prevent over mixing.
spoon batter into liner, ~2/3 full, and bake for ~16 minutes. Remove from oven and allow to cool on wire racks
For the Frosting
Cream butter until fluffy
Add ganache, vanilla, butter flavoring, and salt then beat to combine
Add sugar 1 C at a time, stirring between additions and use milk to thin and smooth batter, if needed
To Assemble
Hollow out cupcakes
Fill with whipped ganache
Top with Frosting
Garnish with reserved ganache
Cake by the Cup Blog https://blog.cakebythecup.com/