No food says "I Love You" like a dipped strawberry. But there is also something so versatile about them. They can be made to look like hearts for valentines day, carrots, for Easter, witch hats for Halloween. This means the love can live on year round. Even if you aren't making them look like something you can change them up by using different colored coatings or filling them with cream cheese and graham crackers for a filled Strawberry Cheesecake… that one is my personal favorite.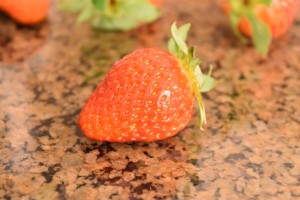 The trouble with Strawberries though comes with timing. They can be super simple or a complete wreck and it all happens in a matter of seconds. So here is my little guide to successful dipped strawberries.
Now it's Easter time, so go out there and dip some strawberries that look like carrots!!! This is done by dipping the strawberry in colored white chocolate or in candy melts. Either is delicious and, with the naturally green stem, you get the carrot look in minutes. Happy Easter!